The Penobscot Bay Experiment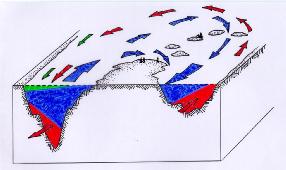 ---
Project Summary and Reports
Summary
The goal of this research is to delineate the principle features of the residual circulation pattern and its temporal variability in Penobscot Bay.
Moored velocity and temperature/conductivity time series are available in addition to hygrographic surveys of Penobscot Bay.
2001 Field Work 2000 Field Work Reports West Penobscot Bay Current Speeds and Directions during July 1999 measured at 44&deg 03.32´N, 068&deg 59.83´W.